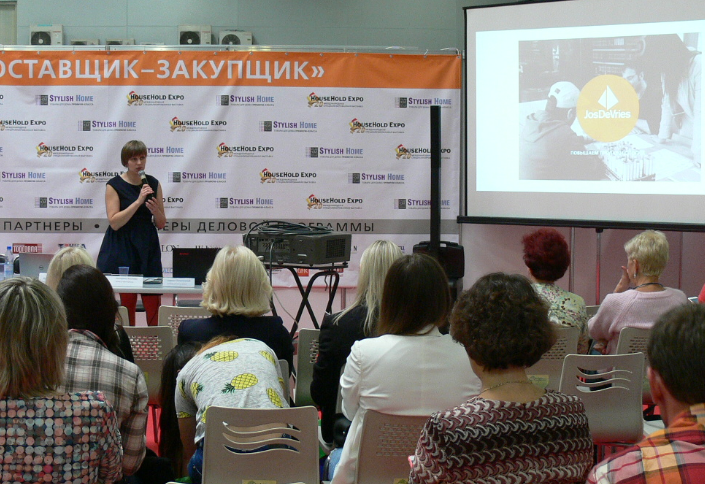 The next workshop will be devoted to the topic "How to order seasonal goods and not be ruined".
Speaker – Olga Pravuk, expert, business coach in the field of management of trade stocks and assortment. The following topics will be discussed:
Accurate prediction of the sales of seasonal goods: myth or reality?
Deficit or non-liquid: what is worse?
How may ZARA help us?
Sale of seasonal goods: how to decide if it is practical.
Master-class of Eketerina Buzukova "INCREASING SALES OF A SHOP BY SIMPLE METHODS" will cover the following issues:
Key factors of the efficiency of a shop (average bill, conversion rate, etc.)
The revenue of a shop consists of the average bill rate and the number of customers. Average bill is the average price of one product and the bill/product rate (how many goods are bought with one bill). The number of customers is the number of all customers who have entered the shop and bought goods (conversion rate). By influencing these factors one may increase the revenue of a shop by ~ 10 up to ~ 50%.
We need customers. External advertising and attracting customer traffic.
We will look at the location of the shop (Reilly's Law), the image of the shop, advertising directed at external traffic, product range which the customer needs, favourable price of key products, regular campaigns and events, parking and working hours which are convenient for the customers.
We need customers – conversion rate. Turning visitors into customers.
Work of a salesman, "forbidden phrases" and "required phrases", number of "salesman-buyer" contacts. Motivation of salesmen. Cardboard salesman, "puppy" technique, famous brands and a product range which the customer needs, the rule of 22 minutes, navigation.
We need goods. Increasing the average bill, working with price and product range.
What the customer and not the supplier or purchasing agent needs. Three price segments, working with markups, no deficit, the "golden shelf", "signal prices", "from the expensive to the cheap", increasing the price of a product, psychological techniques of price tag design, other techniques.
How to sell more goods to one customer. Increasing the average bill – selling more.
We will take a look at the slogans of salesmen, using the change to make a purchase, package sales, "Bigger portions!", impulse goods and cross-sales, cardboard salesman and samples of goods, shopping carts and other techniques.
Participation in the event is free after an on-line registration
The business programme is being constantly updated!
Moscow, IEC Crocus Expo, March 27-29, 2018
We are looking forward to seeing you at Household Expo, Stylish Home, Dacha Outdoor and Christmas Box. Podarki – the biggest Russian B2B exhibitions of household goods, goods for dacha and gifts!
Coordinator of the business programme
Galina Shevchenko, This email address is being protected from spambots. You need JavaScript enabled to view it.
+7 (910) 426-01-61, +7 (495) 363-50-32